EMX4i
Smaller, more powerful and with new control and protection functions

Pumps and fans

Conveyors

Machine and plant building

Building automatin HVAC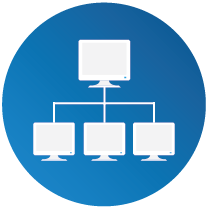 Networking capabilities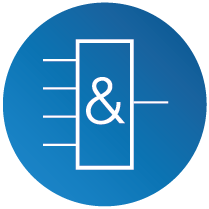 PLC functions integrated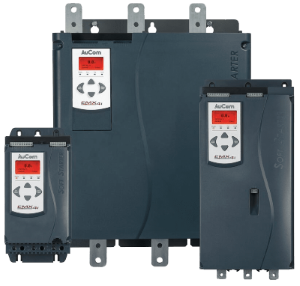 The EMX4i soft starter series sets new standards for soft starter technology. It is not only smaller and powerful, but equipped with new features.
Perfect operation/Programming
Comprehensive plain text
Multi-lingual including German
Application descriptive
Extensive feedbacks
Real-time graphs
USB Interface

Supports energy efficiency
Compatible with IE3 motors
Electrical efficiency > 99%
Integrated bypass
No harmonics

Wide model range
24 A – 1250 A
200 – 525 VAC or 380 – 690 VAC
Inside Delta connection is possible

Rationally organised
Configuration profiles ready for many applications
Simulation mode
Clock + weekly calendar

Inputs/Outputs
Digital inputs: 2 x fixed, 2 x programmable
Analog output: 1 x programmable
Relay output: 1 x fixed, 2 x programmable

Various start/stop scenarios
Calendar controlled start/stop
Application adaptive ramps
Current controlled ramps
Constant current ramps
Kickstart
Pump cleaning run
Timed ramps
Freewheel ramp
DC brake
Soft brake
Reversal of direction of rotation

Adaptable protection functions
Motor overload
Excessive start detection
Undercurrent/Overcurrent detection
Undervoltage/Overvoltage detection
Current-balance deviation detection
Emergency stop
PTC input
Power-Through bypassed defective thyristor
FIRE emergency operation

Accessories
Profinet, Ethernet/IP, Modbus TCP, Modbus RTU, Profibus, DeviceNet
Customisable smart card
Remote control
Finger guard
Simple commissioning and maintenance
Smart does not have to mean complex. While the EMX4i offers more functionality than before, it has been designed to make your life easier.
 
A Starter for the future
The soft starter EMX4i includes starter, motor and system protection functions, complete with alarms to alert you to any potential issues.

By enhancing the display and connectivity functions, and making them intuitive, it is easier to access the right information when you need it, enhancing your overall efficiency.
In addition, connection to other devices and support services is easier. Connectivity has been enhanced with a range of communication cards to enable network connections and increase accessibility.
 
Pocket Technician App
Troubleshooting starting and stopping issues is now easier than ever with the Pocket Technician app. Easily retrieve useful data from any EMX4i soft starter, including starter model, status, and details of the last three trip events.
View the data on-site and diagnose issues in the field, or share it with your local support team for further assistance.
 
USB Port
The new USB port allows straightforward upload, download and storage of starter performance information, increasing your ability to manage the system effectively.
Scheduling and automation features enable you to tailor operations to meet your site requirements, minimising manual intervention and ensuring continued operation..
 
Smart Card
By upgrading your EMX4i with an industry-specific smart card, your system can be specifically built around a central point of intelligent control and communication.

In addition, different communication cards such as DeviceNet, Ethernet/IP, Modbus RTU, Modbus TCP, Profibus and Profinet can be used.
Model

max. Motor Rating

Current Ratings

3ph. 200-525 VAC, IP20/00

Standard Duty 3,5-15:345

Heavy Duty 4,0-20:340

Standard Duty 3,5-15:345

Heavy Duty 4,0-20:340

EMX4i-0024B-V5-C1-H

11 kW

7,5 kW

20 A

16 A

EMX4i-0042B-V5-C1-H

18,5 kW

15 kW

34 A

27 A

EMX4i-0052B-V5-C1-H

22 kW

18,5 kW

42 A

35 A

 

Standard Duty 3,5-15:345

Heavy Duty 4,0-20:340

Standard Duty 3,5-15:345

Heavy Duty 4,0-20:340

EMX4i-0064B-V5-C1-H

30 kW

22 kW

63 A

51 A

EMX4i-0069B-V5-C1-H

37 kW

30 kW

69 A

62 A

EMX4i-0105B-V5-C1-H

45 kW

37 kW

86 A

69 A

EMX4i-0115B-V5-C1-H

55 kW

45 kW

108 A

86 A

EMX4i-0135B-V5-C1-H

60 kW

55 kW

129 A

103 A

EMX4i-0184B-V5-C1-H

75 kW

60 kW

144 A

116 A

EMX4i-0200B-V5-C1-H

90 kW

75 kW

171 A

138 A

EMX4i-0229B-V5-C1-H

110 kW

90 kW

194 A

157 A

EMX4i-0250B-V5-C1-H

132 kW

110 kW

244 A

200 A

EMX4i-0352B-V5-C1-H

160 kW

132 kW

287 A

234 A

EMX4i-0397B-V5-C1-H

200 kW

150 kW

323 A

263 A

EMX4i-0410B-V5-C1-H

220 kW

200 kW

410 A

380 A

EMX4i-0550B-V5-C1-H

280 kW

220 kW

527 A

427 A

EMX4i-0580B-V5-C1-H

315 kW

250 kW

579 A

470 A

EMX4i-0835B-V5-C1-H

355 kW

 300 kW

654 A

535 A

EMX4i-0940B-V5-C1-H

400 kW

315 kW

736 A

603 A

EMX4i-1070B-V5-C1-H

500 kW

450 kW

950 A

785 A

EMX4i-1230B-V5-C1-H

600 kW

500 kW

1154 A

959 A

EMX4i-1250B-V5-C1-H

700 kW

600 kW

1250 A

1156 A

 

 

 

 

 

Main voltage

V5 = 200 to 525 VAC (± 10%) ; V7 = 380 to 690 VAC (± 10%)

Control voltage

C1 [A1, A2] 110-120 VAC (+10 % / -15 %), 600mA;

C1 [A2, A3] 220-240 VAC (+10 % / -15 %), 600 mA

C2 [A1, A2] 24 VAC/VDC (± 20%), 2,8 A

Mains frequency

50 Hz – 60 Hz (± 5 Hz)

Form designation

Bypassed or continuous, semiconductor motor starter form 1

Short circuit capability

Coordination with semiconductor fuses Type 2

Coordination with HRC fuses Type 1

Inputs

Inout rating "active" 24 VDC, 8 mA (approx.);  Motor thermistor [B4, B5] Trip > 3,6 kΩ, Reset < 1,6 kΩ

Outputs

Relay outputs  10 A at 250 VAC resistive, 5 A at 250 VAC AC15 pf 0,3

Main contactor (33, 34)  Normally Open

Relay output A (41, 42, 44)  Changeover; Relay output B (53, 54)  Normally Open

Analog output (21, 22)  Maximum load 600 Ω (12 VDC @ 20 mA); Accuracy ± 5 %

Protection class

Frame size 1 IP20, frame sizes 2, 3 & 4 IP00

Operating temperature

-10 °C up to +60 °C, above 40 °C with derating

Storage temperature

-25 °C up to +60 °C

Humidity

5 % up to 95 % relative humidity

Pollution degree

Pollution degree 3

Vibration

IEC 60068-2-6

EMC Emissions

IEC 60947-4-2 class B

EMC Immunity

IEC 60947-4-2

Heat dissipation

During start: 4,5 watts / ampere

During run: EMX4i-0024B - 0052B ≤ 35 watts (approx.);
EMX4i-0064B - 0135B ≤ 50 watts (approx.);
EMX4i-0184B - 0250B ≤ 120 Watt (ca.);
EMX4i-0352B - 0580B ≤ 140 watts (approx.)

Accessories (optional)

Smart Card, communication cards, Remote Keypad, Finger guard kit, PC software

Communications options

DeviceNet, Ethernet/IP, Modbus RTU, Modbus TCP, Profibus, Profinet

Certification

CCC: GB 14048.6; CE: EN 60947-4-2; C-UL: C22.2 N° 60947-4-2; UL: UL 60947-4-2; Marine: Lloyds Marine No 1 Specification; ABS Steel Vessels Rules 2010; RCM: IEC 60947-4-2