FR-E Series IP20
Safety, minimize cost and predictive maintenance

Pums and Fans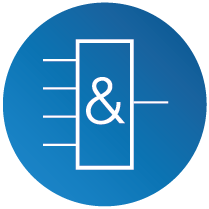 PLC functions integrated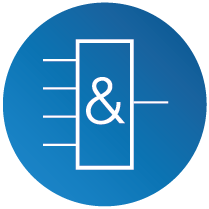 PLC functions integrated
The FR-E800 Series variable frequency drive is built upon Mitsubishi Electric's proven variable speed control technology. Designed to save energy and minimize cost, the FR-E800 brings together advancements in quality, performance, and predictive maintenance capabilities in one multi-purpose inverter
Safety, minimize cost and predictive maintenance
The FR-E800 Series variable frequency drive is built upon Mitsubishi Electric's proven variable speed control technology throughout years of reliable operation across various constant and variable torque applications. Designed to save energy and minimize cost, the FR-E800 brings together advances in quality, performance, and predictive maintenance capabilities in one multi-purpose inverter.
Compact Design - Save space with a compact footprint to control 3-phase motors up to 7,5 kw (with expansion in the future until 30kw) at 200V, 400V and 600V.

Dual Overload Rating - Achieve top performance in smaller frame sizes with light duty (LD) and normal duty (ND) overload current ratings.

Auto-tune to IM & PM Motors - Setup and commission quickly and easily without time-consuming tuning or the need for on-site support.

RS-485 and "Dual-Port" Ethernet Protocol Models - Switch between Ethernet protocols simply by changing internal parameters. The FR-E800 series inverters support a variety of open networks without the need for additional option cards.

MELSEC 2K Step PLC - Reduce internal components and save panel space, eliminating wiring time, and reducing system setup times. Operation of the system can be customized by the FR-E800's built-in PLC feature

Inverter-to-Inverter Linking - Create small-scale systems by connecting multiple VFDs via Ethernet protocols. The communication between multiple inverters is carried out through the inputs/outputs and built-in PLC.

Extended Environmental Rating - FR-E800 operates in ambient temperatures from -20°C to 60°C (-5 to 140°F) and the control card is conformal coated to withstand harsh environments.

Corrosion Alert System - FR-E800 is the world's first system to identify signs of damage caused by hydrogen sulfide or other corrosive gases. The operator receives a notification when the production environment needs to be improved or risk the possibility of unplanned downtime.

Life Diagnostics Function - Analyze and determine remaining lifetime of critical components, such as capacitors, contact relays, cooling fan, and inrush current limit resistor
Environment consciousness in global standard
Compliant with the EU RoHS  directive
Being RoHS compliant, the inverter is friendly to people and the environment.
EMC directive compliant noise filter
EMC compliant to EN61800-3 2nd environment, when an optional EMC filter is connected.
Compatibility with various standards
The inverters are compatible with UL, cUL, EAC, EC directives (CE marking).
 Technical specifications
| | |
| --- | --- |
| Series | FR-E800 SERIES |
| Type | FR-E800 RS485 INVERTER |
| Minimum Rated Voltage (V) | 380 |
| Min. Permissible Voltage (V) | 323 |
| Maximum Rated Voltage (V) | 480 |
| Max. Permissible Voltage (V) | 528 |
| Current Type | AC |
| Phases | 3 |
| Rated Output Current LD (A) | 11,1 |
| Rated Output Current ND (A) | 9,5 |
| Rated Motor Capacity LD (kW) | 5,5 |
| Rated Motor Capacity ND (kW) | 3,7 |
| Control Method | V/F CONTROL, REAL SENSORLESS VECTOR CONTROL, PM SENSORLESS VECTOR CONTROL, MAGNETIC FLUX VECTOR CONTROL |
| Motor Type | INDUCTION MOTOR, PM MOTOR |
| Brake Chopper ED (%) | 100 |
| Integrated EMC Filter | NO |
| Safe Torque Off (STO) | YES |
| Regenerative (4Q) | NO |
| Integrated DC Choke | NO |
| Display | BUILT-IN   |
| Display Type | 4-DIGIT LED |
| PLC Function | YES |
| Program Memory | 2K |
| Program Memory Unit | STEPS |
| Integrated Digital Inputs | 7 |
| Digital Outputs (Transistor) | 2 |
| Digital Outputs (Relay) | 1 |
| Integrated Analogue Inputs | 2 |
| Integrated Analogue Outputs | 1 |
| IO Type of Terminal Block | SPRING CLAMP |
| Expandable | YES |
| RS-485 | 1 |
| USB | 1 (MINI B) |
| Ethernet Port | NO |
| Built-In Network | MODBUS RTU |
| Leakage Current (mA) | 1,2 |
| Power Loss LD (W) | 136 |
| Power Loss ND (W) | 112 |
| Frequency Range (Hz) | 0,2–590 |
| Protection Class | IP20 |